Come join us at Tequila's. A family-owned local restaurant focused on delighting every guest with a genuine Mexican dining experience. We are proud to authentic, delicious Mexican food, complemented by a great tequila or margarita served in a comfortable, friendly Mexican setting where everyone is welcomed as family and friends.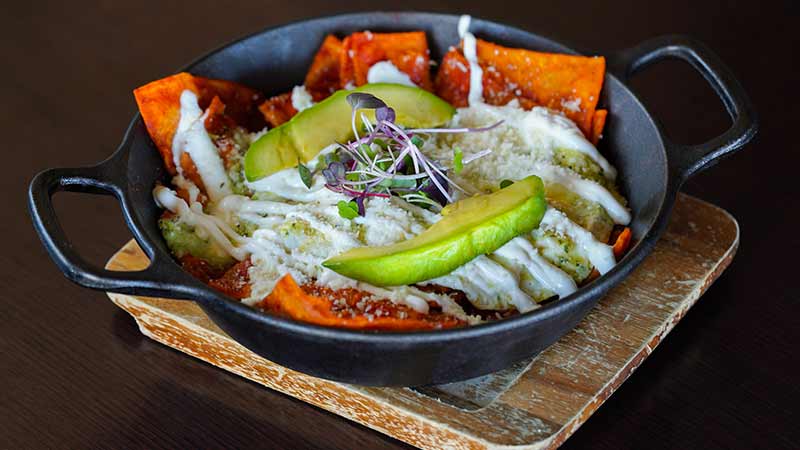 Corn tortillas cut in quarters, lightly fried, covered in a red guajillo tomato salsa, topped with onions, queso fresco, crema and a hint of oregano. Served with refried beans and avocado slices.
One stuffed with jack cheese, dipped and covered in an egg batter, topped with red tomato salsa. A chile stuffed with creamy garlic shrimp and crab meat mix topped with chipotle cream sauce. One with picadillo and queso sauce.
Sizzling steak, chicken, or shrimp (or any combo) served with rice, beans, tortillas, pico de gallo, crema, guacamole and cheese with our secret homemade marinade.
Whether your style is Roasted Pork Carnitas, Rancheros or trying something different like the Bacon and Shrimp Taco, these street style tacos will satisfy that taco craving!
Margaritas, Mojitos, Tequila and Much More!
Top shelf tequila with fresh limes and jalapeño peppers served over ice and rimmed with your choice of salt or, if you're brave, cayenne pepper.
Two of tequila's favorite drinks (after the margaritas!). Made with fresh lime, pineapple, mint and a choice of other flavors. Served in a frozen copper mule mug or a fun-drinking mason jar.
979 Main Street
Wakefield, MA 01880
Phone: 781-587-3500
email: Tequilascantinane@gmail.com
Business Hours
Monday to Thursday: 12:00pm to 9:00pm
Friday & Saturday: 12:00pm to 10:00pm
Sunday: 12:00pm to 9:00pm
Photography by Mileidy Rodriguez